Annual & Community Reports
2015/16 CareFirst BlueCross BlueShield Report to the Community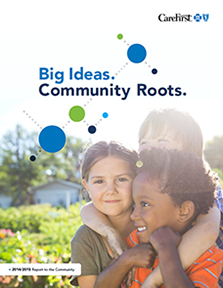 CareFirst's mission is to provide affordable and accessible health insurance to our members in Maryland, Washington, D.C. and Northern Virginia.
In 2016, CareFirst:
Contributed $43.5 million to community initiatives and public health care access programs designed to increase the accessibility, affordability, safety and quality of health care services throughout the region.
Continued its commitment to community-based health care, investing $3 million to support safety net clinics.
Advanced and support innovative programs and initiatives that will produce a sustainable and positive impact on health care delivery.
---
Download 2015/16 Community Report