Viewing and printing this document requires Adobe Acrobat Reader, which can be downloaded free from the Adobe site.
Earning Engagement Points, Drug Therapy Prioritization and Setting Panel Goals - All In This PCMH PCP Q1 Update
April 06, 2018 -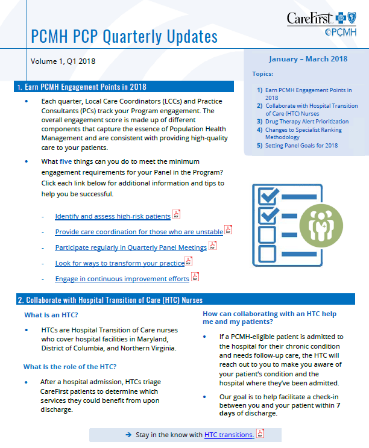 PCMH PCP Quarterly Updates
Volume 5, Q1 2018
January – March 2018
The Patient-Centered Medical Home (PCMH) Primary Care Provider (PCP) Quarterly Updates newsletter was developed to assist you, the PCP, in understanding the PCMH Program.
This document aims to offer ways to expand on your Population Health Management techniques in order to help you succeed in CareFirst's PCMH Program.
Topics in this Issue include:
Earn PCMH Engagement Points in 2018
Collaborate with Hospital Transition of Care (HTC) Nurses
Drug Therapy Alert Prioritization
Changes to Specialist Ranking Methodology
Setting Panel Goals for 2018
Download the complete issue to learn more.
Questions? Please contact your Regional Care Director. For an updated listing, visit www.carefirst.com/providerrep.